Featured Rugs Gallery
Show & Tell
On this Gallery, you can tour a selection of rugs from our Members. Visit our Blog to see the rugs showcased in the past.
Next Update:  July 2022

New Year's Resolutions
Our Show and Tell themes for 2022 will all be based on New Year's Resolutions, spreading hope and positivity throughout the year.
#2 Enjoy nature!
Winter has ended, and spring has sprung. What better time to enjoy nature's splendour bursting forth! Connecting with nature improves our mood and nurtures happiness and well-being. Whether a walk in the park, caring for a houseplant, or planting a butterfly garden, you can also capture some of that happiness by hooking a flower or a ladybug into a rug. Happy Spring everyone!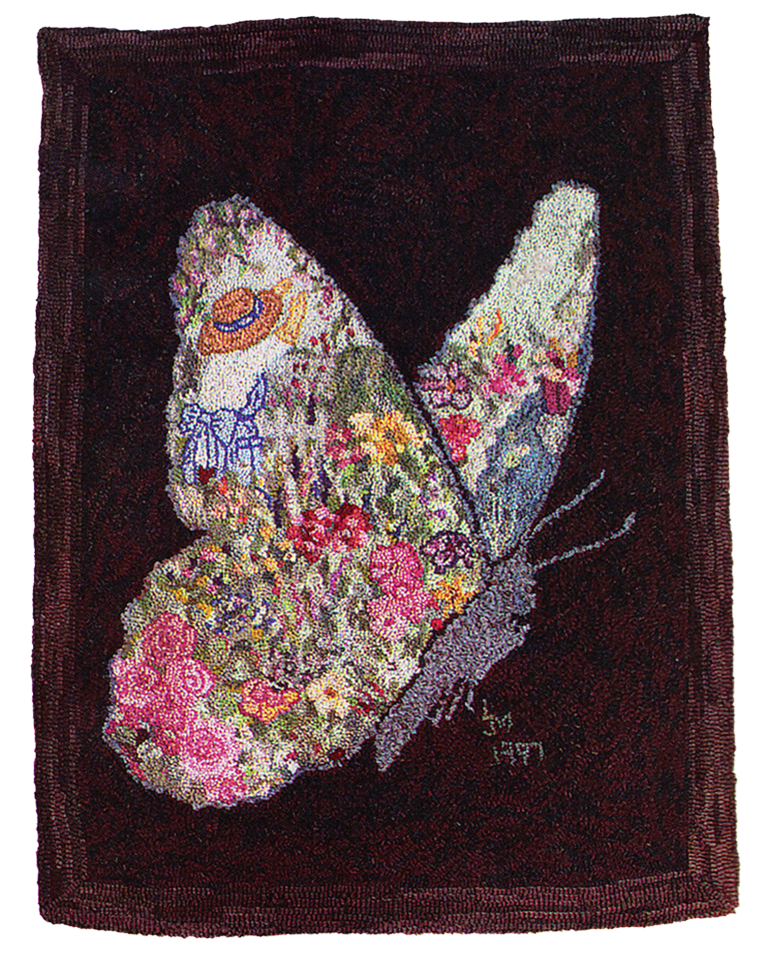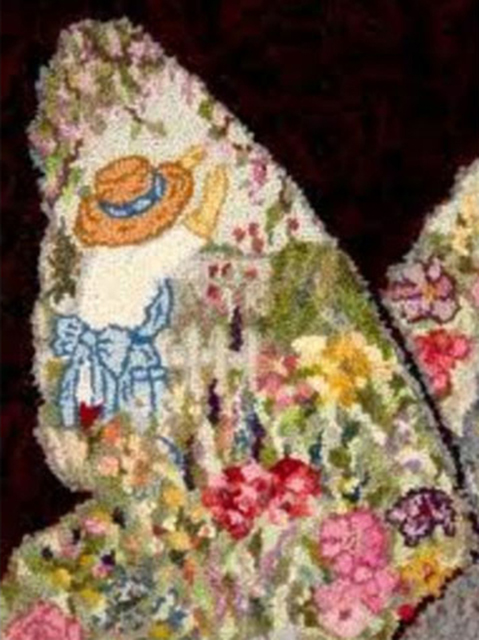 Lois J. Morris
My Butterfly Garden
Original
1997
#3 and #4 cuts on rug warp
26.5 in x 35 in
There are so many beautiful things in the natural world around us. As I was watching a butterfly in the garden, I was inspired to combine them together into this whimsical rug design.
This piece was showcased in Rug Hooking Magazine vol. XXVI – No 4, January-February 2015.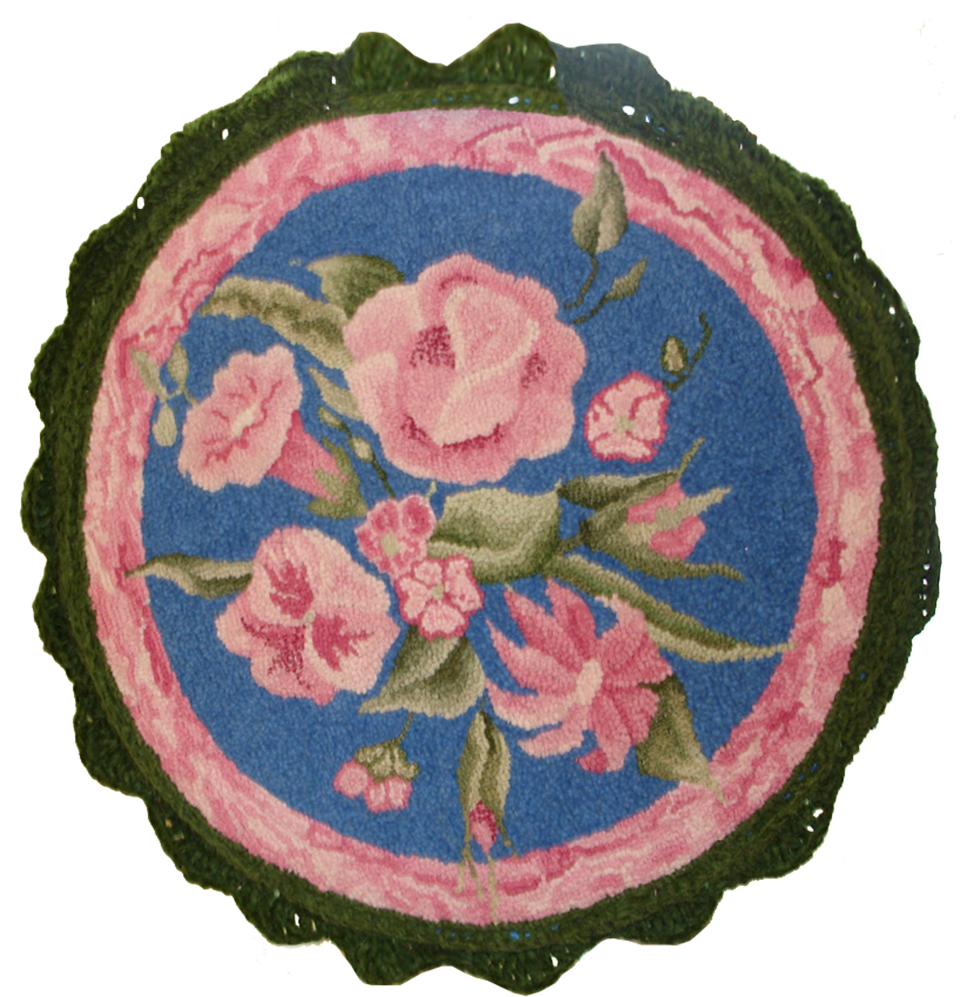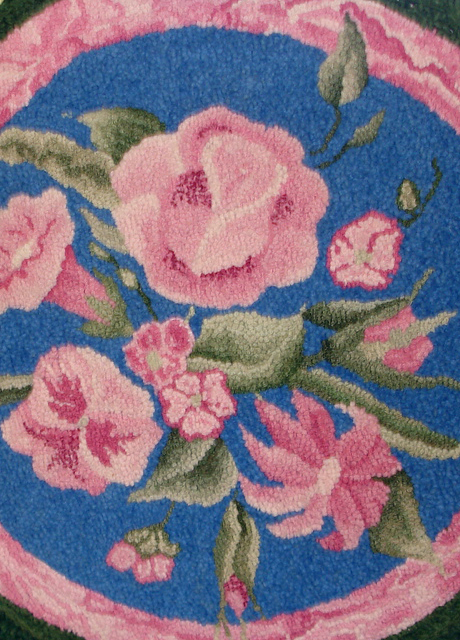 Maureen Rowe
Roses
Designed by Lois J. Morris
2010
Wool cuts #3 and #4
15-inch diameter
Crocheted edging
I did this rug while doing a course on shading at Beaconsfield with Lois J Morris. It was her design and her wool. It was interesting to learn the values of shading and how the values work side by side. To see a real difference, you have to skip one value, but otherwise from one value to the next, the change is much more subtle.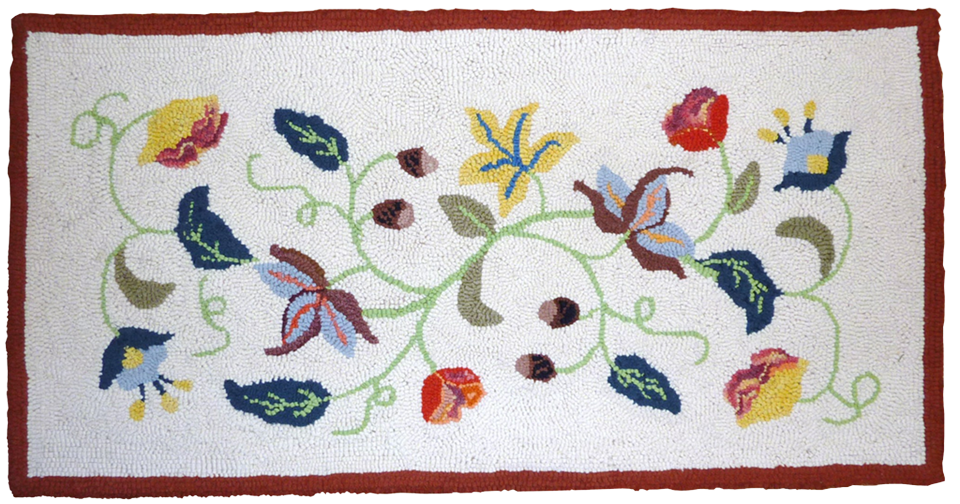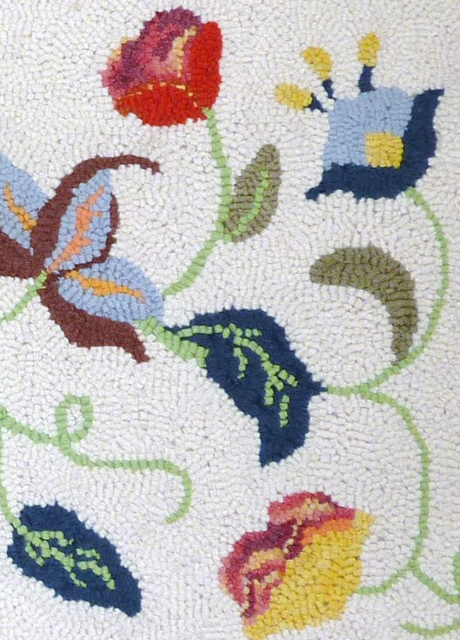 Claire Fradette
Floral Banner
Designer unknown
2009
Variety of cuts
18 in x 30 in
I bought the pattern for only $2 at an OHCG annual in Ottawa.
I hooked it with leftover worms cut in various widths. The background is done in higgledy piggledy style using off-white Dorr wool cut to #6 width.
This rug was first a table runner. Then, I used it on top of a dresser for a while. Today, it is a floor rug.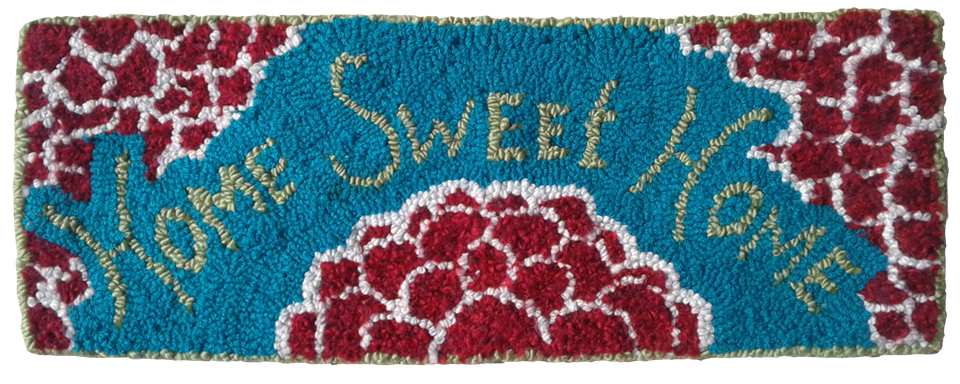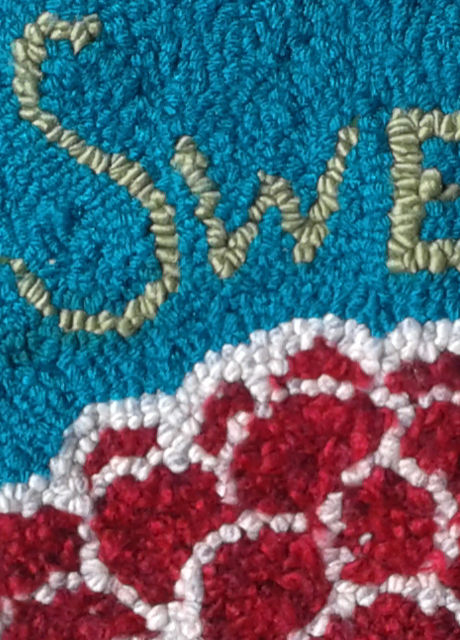 Isabelle Rollin
Home Sweet Home
Original
Punch needle
2014
8 in x 21.5 in
Whipped border
This was my first try at punch hooking when I took a mini workshop on Punch Needle Hooking with Dawna Matthew given on a Saturday. I used yarns which I had available and needed a few band-aids!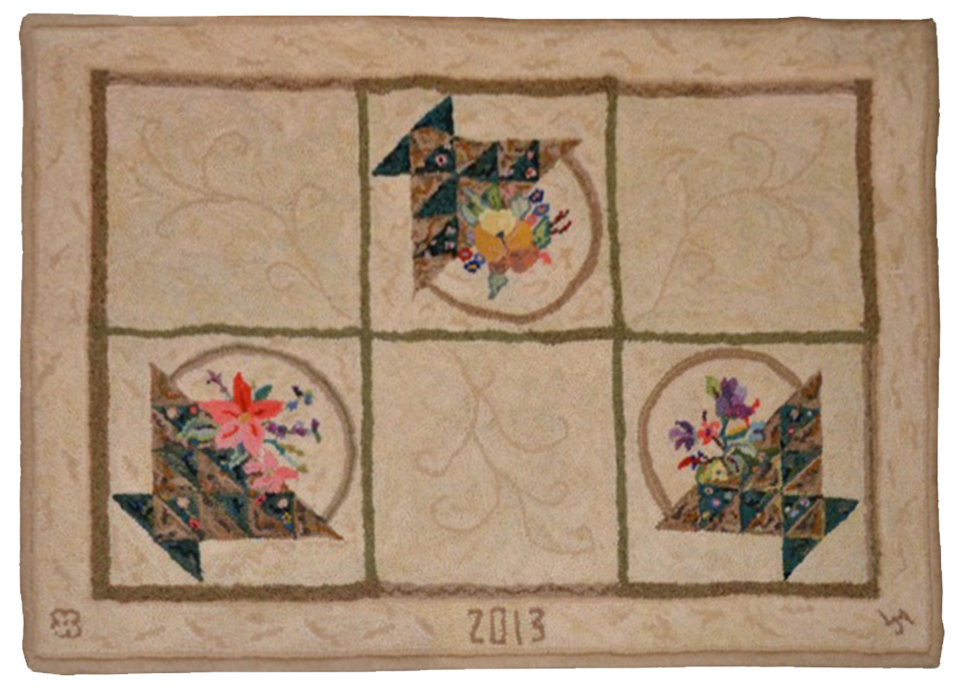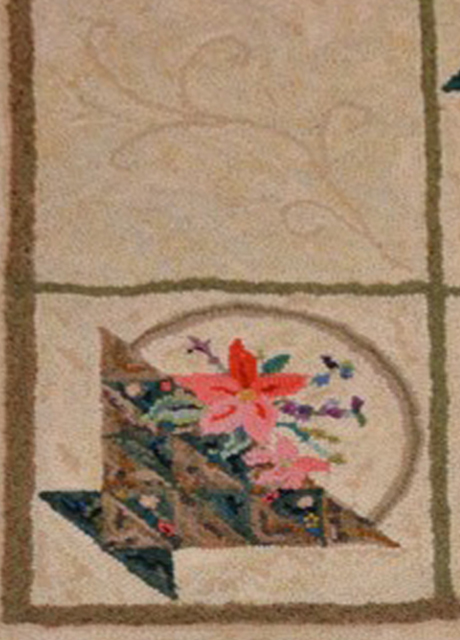 Lois J. Morris
Flower Baskets
Design based on a quilting pattern
2013
#3 and #4 cuts on linen
42 in x 30 in
My quilting friends were making a quilt to raise money and I contributed to the project by making a companion rug. The flower baskets are hooked with recycled wool plaid, some as-is and some over-dyed. I dyed the background wool to match the quilt background fabric. Our projects were raffled off with the proceeds going to scholarships for local students.
This piece was showcased in Rug Hooking Magazine vol. XXVII – No 3, November-December 2015.
Hungry for more?
Visit the Animated Rugs Page... and don't miss our Blog! You will find other rugs featured in the past!