The Beaconsfield Hooking Crafters Guild is a non-profit organization which was founded as a guild in 1975. It is located on the West Island, 15 minutes from downtown Montreal. Our objective is to keep rug hooking alive as a fibre art form and develop it further to include rugs, pictorials, sculpted pieces, cushions, stool covers and much more.
We hope that you will enjoy this travel around the rug hooking world and that you become as "hooked" as we are.
Learn More
Hook-Ins
Monday Regular Hook-Ins
Centennial Hall, 10AM - 3PM
Due to COVID 19 regulations, we can only have limited attendance at this time.
See Events Calendar
We're Hooked!
The Guild offers rug hooking courses; gives demonstrations; hosts a biennial exhibition and an annual picnic; organizes luncheons and wool auctions.
Find out more
Have We Hooked You?
The affiliation fee is only $35 a year.
Membership is open to anyone: men and women, beginners or advanced rug makers.
Learn More
President's Message
Thank you for visiting our website! To explore our Guild's recent activities, please look at our News and Blog section. To view our calendar, please see Events.
The Beaconsfield Hooking Crafters Guild was founded by Lois J. Morris in 1975 and has grown and flourished throughout the years. Many members started rug hooking because they remember their mother or grandmother, and in my case my grandfather, hooking rugs which welcomed people at the front door, adorned the floor at the wood stove, or assured warm feet at the bedside.
Since those times, rugs now also decorate tables, walls, footstools, or become handbags, cushions, teapot cozies, 3-dimensional art, and the ideas keep coming! We welcome newcomers to this fibre art, just as we welcome experienced rug hookers. We meet on Mondays from September to May in the charming Centennial Hall in Beaconsfield, Quebec. Drop us a line by using our Contact page.
Emmy Maten - President / 2022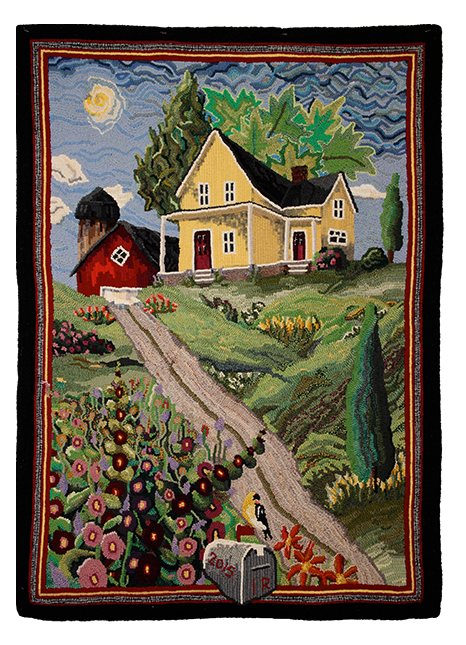 Upcoming Events
Hook-Ins
Mondays at Centennial Hall:
2023
SEPTEMBER : 11, 18, 25
OCTOBER: 2, 16, 23, 30
NOVEMBER: 6, 13, 20, 27
DECEMBER: 4, 11
For those interested in participating in our Hook-ins or joining our guild, please contact us first (please visit the contact page).