Events Calendar
Hover your mouse over an activity and click for more information.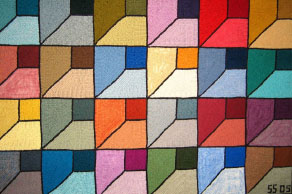 Attic Window. Hooked Rug by Sylvia Solomon
Hook-Ins
10 AM - 3 PM
Regular Hook-Ins, Mondays, from September to May.
Centennial Hall
288 Beaconsfield Blvd.
Beaconsfield, QC, H9W 4A7.
Saturday Hook-Ins, the third Saturday of the month, all the year.
La Tricolette
3652 Saint-Charles Blvd.
Kirkland, QC, H9H 3C3.
Upcoming Events
A Calendar of Events in Montreal, Quebec, Ontario or everywhere in Canada and USA, related to Rug Hooking and Fibre Art.
COVID-19: All our activities are cancelled until further notice
Workshop
Beginner / Refresher Class
Rug Hooking 101
Interested in learning the basic to get you started on your rug hooking journey? Reach Dawna Matthew through the Contact Page.
Hook-In
St Patrick
March 16th, 2020
Centennial Hall
* Bunny, by Cathy Wilson
Eastern
Break Time
No Hook-In on Monday
April 13th
* Bunny, Hooked by Cathy Wilson
Hook-In
Olde Forge
April 25, 2020
Britannia United Church
985 Pinecrest Road, Ottawa
OHCG Annual
Everything Under The Sun
April 17-19, 2020
Huntsville, Ontario
2020
BHCG 45th Anniversary
September 2020
* Sudoku Rug by Brenda Ticehurst (Detail)
Events to share?
If you're interested to share Rug Hooking Events with us, please use the Contact Form.