Events Calendar
Hover your mouse over an activity and click for more information.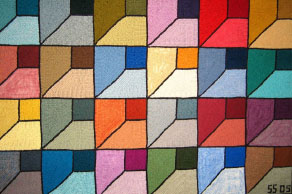 Attic Window. Hooked Rug by Sylvia Solomon
Hook-Ins
10 AM - 3 PM
Regular Hook-Ins, Mondays, from September to May.
Centennial Hall
288 Beaconsfield Blvd.
Beaconsfield, QC, H9W 4A7.
Saturday Hook-Ins, the third Saturday of the month, all the year.
La Tricolette
3652 Saint-Charles Blvd.
Kirkland, QC, H9H 3C3.
Upcoming Events
A Calendar of Events in Montreal, Quebec, Ontario or everywhere in Canada and USA, related to Rug Hooking and Fibre Art.
St-Henri's Retreat
February 16-17, 2019
St-Henri's Rug Hooking Retreat
Ermitage Sainte-Croix
21269 Boul Gouin O
Pierrefonds, QC, H9K 1C1
Birds of a Feather
April 12-14, 2019
OHCG Annual Conference, Workshops and Rug Show
Best Western Lamplighter Inn
591 Wellington Rd
London, ON, N6C 4R3
Olde Forge Hook-In
April 27, 2019
Olde Forge Area 1 Hook-In
Britannia United Church Hall
985 Pinecourt Rd
Ottawa, ON, 2kB 6B4
Events to share?
If you're interested to share Rug Hooking Events with us, please use the Contact Form.